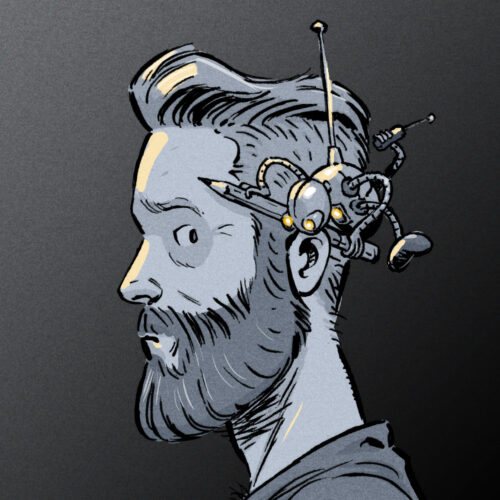 I cannot think of a time when I didn't draw and make up stories in my mind. Since I was a kid it was my dream to create fantasy worlds and make a living from it. I got my first paid jobs while I was still in school – illustrating RPG magazines and Germany's most popular role-playing game, Das Schwarze Auge. A few years later while studying graphic design, I found myself amidst a burgeoning new community of comic creators, when my first comic, Gitta Goblinson, was published by Ideenschmiede Paul & Paul (IPP). The series was short-lived, but led to a job as a penciler on the German hit comic Die Vergessenen.
My next series as both writer and artist, Shayazur, was published by Germany's largest comics company, Carlsen Comics, but shortly after the first tome was published, the series was dropped by Carlsen, which underwent major changes at the time. The second tome was published years later in serialised form in the pages of COMIX magazine.
In the following years I created the gay slice-of-life comic strip Mehr als Kumpels, that ran in several German LGBTQ magazines. I also wrote and illustrated a children's book for grown-ups, Faun, at that time.
Last year marked my return to comics after a longer hiatus from the genre. PLAN31 was just the right project to warm up for bigger projects.
---
Comic book writers and artists that inspired me throughout the years: Moebius, Harvey Kurtzman, Will Eisner, Jean-Claude Mézières, Chris Claremont, Alan Davis, Wendy Pini, Marc Silvestri, Rick Leonardi, Walter Simonson, Jeff Smith, Matthieu Bonhomme, Pepe Larraz
Favorite comics: X-Men, Excalibur (Marvel), Bone, Elfquest, Valerian, Texas Cowboys, Moebius's Aedena Cycle
---
References: Ubisoft, Carlsen Comics, Bastei Verlag, Thyssenkrupp, Zwerchfell Verlag, Droemer Knaur, Ideenschmiede Paul & Paul, Homeboy